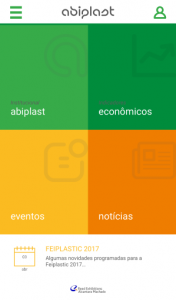 Abiplast, a Brazilian Plastic Association, uses a mobile/portal solution developed by me in 2016.
The solution is composed by one lightweight and fluid mobile application (Android and iOS) and a CMS Web Portal.
It presents all their events, news, economic indicators, graphs, videos and documents inserted by Abiplast employees through the CMS Web Portal.
The app is free, supports Push Notifications, chat, ads and it restricts the access to certain features to members only.
Interested? If you are in Brazil, download it for free at Google Play or Apple Store